Skip to Content
Does A Metal Roof Add Value To A Home?
Does A Metal Roof Add Value To A Home?
In recent years in the US, metal roofs have become very popular, and there are many reasons why this is the case. Metal roofs are attractive, extremely durable, energy efficient, and can add value to your home or business property. Here are some of the reasons why metal roofs are such a good choice.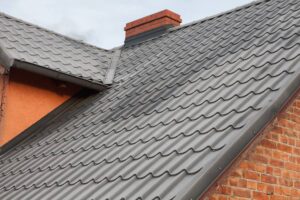 Style
Metal roofs come in a vast array of styles and colors. They can mimic the look of any other type of roofing material, whether it's traditional shingles, wood shakes, tiles, or even architectural shingles. The selection of colors is virtually endless, so that you can match the décor of any home with a metal roof.
Standing Seam Metal Roofs
The most recognizable style of metal roofing is the standing seam design. The standing seam design is more or less an updated version of the old tin roofs seen on barns and sheds across the country. These roofs consist of flat metal panels that interlock through vertical seams. These panels are usually 12 inches wide and are available in just about any color you would choose.
Choice of Metals
Metal roofing is available in a number of different types of metal. The most common metals used are galvanized steel, stainless steel, aluminum, copper, tin, or zinc. There's quite a price differential between the various metals, with copper being the most expensive and tin the least.
Durability
Compared to other roofing materials, metal roofing has a far longer lifespan. Here's a comparison of the expected longevity of various roofing materials:
Asphalt or composite shingles-20-50 years, depending on the quality of the shingles
Slate or tile-these are the winners in this category, as they can last up to 100 years
Cedar shakes-because of the properties of the wood, cedar shakes can last around 30 years
Fiber cement-expect this type of roof to last around 25 years
Architectural asphalt shingles-normal lifespan for this type of roof is about 30 years
Metal roofing-a quality metal roof can look great for anywhere from 40 to 80 years.
Low or no Maintenance
Your new metal roof will require little or no maintenance during its lifetime, while other roofing materials require annual maintenance, cleaning, or sealing. With a metal roof, you won't have a problem with fungus or moss accumulating on the roof, and you won't have to clean any granules from your gutters as you would with traditional asphalt shingles.
Reduced Energy Costs
Metal roofs are extremely energy efficient. They have a high reflectivity, so they don't absorb a lot of heat and they are not subject to damaging UV rays. Some homeowners report that their heating and cooling bills went down an average of 10%-25% after the installation of a metal roof.
Better Protection for your Home
In addition to the longer lifespan of a metal roof, they offer better protection against the weather. Metal roofs can withstand wind gusts of up to 140 miles per hour. Rainwater runs off a metal roof much faster than with other materials, and they're less likely to be damaged by hail, snow, or ice.
Final Words
Metal roofing is very popular and it's here to stay. While the cost of a metal roof may be higher than traditional asphalt shingles, the many advantages they provide make a home more attractive to potential buyers, thus increasing the resale value. No matter what type of roof you choose for your home though, it's a good idea to have it inspected regularly by a roofing professional.
For over 30 years, Paul Bange Roofing, Inc. has served residents and business owners alike with quality roofing, affordable prices, and outstanding customer service. The level of high quality workmanship we bring to each job site is unparalleled, and all our work comes with a 100% customer satisfaction guarantee. In addition, your roofing job will be backed by a lifetime warranty via membership in our Overhead Care Club. Whether you need a roof for your small warehouse or large estate home, you can trust us to handle the job with careful precision. We show up on time, fulfill any promises made, and we work hard to make sure that everything is done right the first time.  If you are in need of a roofer, if you'd like to request a free estimate, or if you just want some information about our company, visit our website or give us a call at 954-981-ROOF(7663), 561-981-ROOF(7663), or 305-981-ROOF(7663).