Skip to Content
High-Quality Shingle Roofs
Paul Bange Roofing provides stellar shingle roofs to Fort Lauderdale, FL residences and businesses. Our commitment to quality and affordable prices play significant roles in our ability to serve you. We own our own equipment, which enables us to control costs, and each of our roofers and project managers possesses years of experience installing shingle roofs. We believe that life is full of unknowns, but the status and security of your roof shouldn't be one of them. So we dedicate ourselves to providing the roof replacements and repairs customers in Fort Lauderdale, FL and beyond deserve.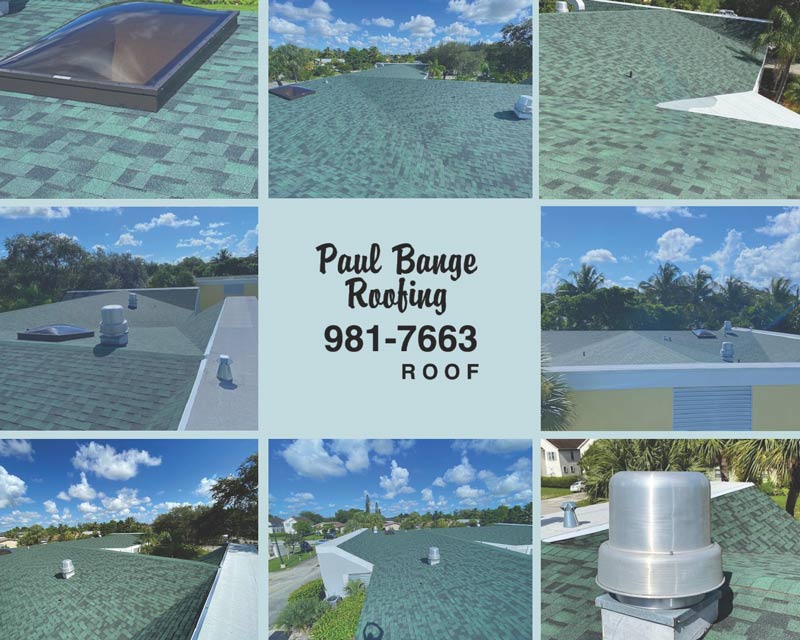 What Are Shingle Roofs?
Shingles are usually composed of asphalt. Asphalt is a versatile material perfect for roofing due to its durability, affordability, and recyclability. So how are asphalt shingles made? First, there are two types of asphalt shingles: fiberglass and organic. Fiberglass shingles contain woven fiberglass as a base element. The fiberglass is saturated with asphalt – which makes it waterproof – and coated with adhesive asphalt, which contains ceramic granules. Organic asphalt shingles are made the same way but start with a base of recycled felt paper instead of fiberglass. From there, you have two options:
Three-Tab Asphalt Shingles
Three-tab asphalt shingles are more affordable than the architectural option and can last for several decades if they exist under the right conditions. However, they are not as aesthetically pleasing and are more prone to blow-off problems, something Southeast Florida residents must consider. Despite the durability and aesthetic concerns, this is a wonderful option for budget-conscious property owners.
Architectural Shingles
Also called dimensional shingles, this option will cost more upfront. It's not always the best option for a starter home or for individuals on a budget, but it does provide benefits three-tab shingles don't. For instance, they are more durable and present a more layered and attractive appearance.
Why Should I Choose a Shingle Roof?
As Southeast Florida residents, we must be vigilant in ensuring our roofs are up to the task of withstanding the hurricanes our area regularly experience. Fortunately, Paul Bange Roofing provides roofing solutions that Fort Lauderdale, FL residents and commercial property owners can rely on. While tile and metal roofs deliver plenty of benefits, you'll see more asphalt shingle roofs as you drive around town than any other variety. There are good reasons for that:
They are a cost-effective roofing material: When it comes to your roof, you don't want to have to worry whether hurricane season will do permanent damage. We believe your roof should be a worry-free part of your home. That's why we recommend asphalt shingles. They are a cheaper option than other roofing materials. That doesn't remove the worry about a damaged roof, but it does let you know repairing it – if you need to – will be affordable.
Asphalt shingles are durable: Which brings us to our next point: This roofing material is made of sturdy stuff. Whether you choose the three-tab variety or the better-looking architectural option, asphalt roofing materials can last a long time under the right circumstances. Their durability might be their strongest selling point.
They're energy efficient: Asphalt shingles are effective at containing energy in your home, which makes them an attractive option to homeowners who want to lower their bills. The energy efficiency asphalt shingles provide pays dividends down the road and frees up extra money in your monthly budget.
They're versatile: There are several design styles to choose from. Don't think of asphalt as a dull roofing surface. It isn't. It comes in a variety of colors and can be installed in several textural design styles. For instance, if you want a little more pizzazz than three-tab shingles can offer, we can overlay high-quality architectural shingles on top of one another to provide you with a distinctive look.
Do You Need a New Roof? Give Shingles a Chance!
Whether you're a homeowner whose current roof was damaged in a storm or a commercial property owner who needs to replace an aging roof, asphalt is perfect for you. Paul Bange Roofing provides high-quality roofs at affordable rates. If you're looking for something other than an asphalt roof, don't worry. Our team also works with metal and tile roofing surfaces. More importantly, we value integrity, honesty, and superior customer service. These traits make us ideally suited to perform in Southeastern Florida's competitive market. We also perform re-roofing, roofing repair, preventative maintenance, and skylight installation services. So if a storm caused damage or you're just looking to upgrade, give us a call today.
Request Your Estimate Today