Skip to Content
Built Up Membrane Roofing
Paul Bange Roofing Installs & Maintains Built Up Roofs
Every building needs a solid roof, but roofing systems aren't one-size-fits-all. Having options is great, and the team at Paul Bange Roofing specializes at built up roofing systems for homes and businesses in Fort Lauderdale, FL. We've been serving the area for more than 30 years, and throughout that time, we've become experts on installing all types of roofing systems. Built up roofing (BUR) gained its popularity during the 1970s but has been around for more than 100 years. You may have heard BUR referred to as tar and gravel roofing. Learn more to find out if built up roofing membranes are right for your building, and contact Paul Bange Roofing today for a free roofing consultation.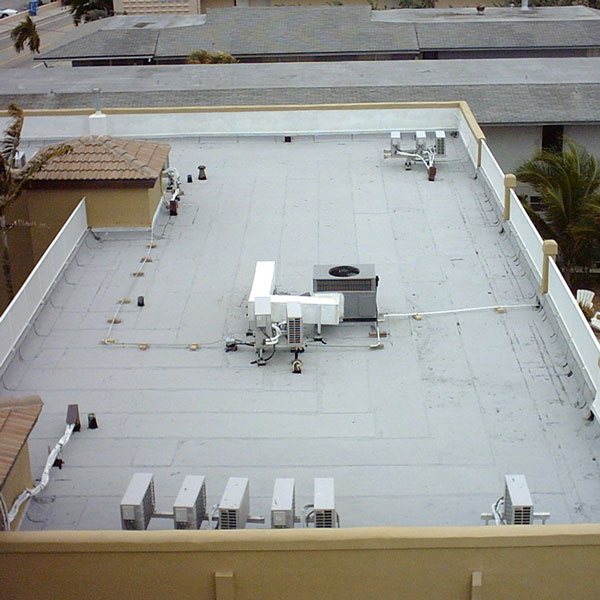 What Is Built Up Roofing?
Built up roofing is made from material consisting of alternating layers of bitumen and reinforcing fabrics. These layers create a finished membrane. Asphalt, coal tar, or cold-applied adhesive are used in the bitumen, while organic or fiberglass mats are used in the reinforcing fabric. BUR is the most common roofing material for low-slope roofs. The top layer is usually made of stone or grave. Built up roofing creates a continuous sealed surface compared to roof shingles, which are unsealed and need a fairly steep roof to shed water effectively.
The Advantages of Built Up Roofing
Built up roofing systems are popular because of their proven reliability. This has made them a top choice among contractors and business owners in Fort Lauderdale. Many built up roofs installed over 40 years ago are still standing strong. Some advantages of built up roofing include offering UV protection and being low maintenance. On the other hand, BUR can be slow and costly to install. Take a look at some of the advantages of built up roofing:
Durability: This roofing type stands the test of time. It's highly resistant to fires and strong winds.
Protection: Built up roofing has multiple layers of bitumen and saturated felts, which creates a water-resistant barrier to keep your roof and building protected against the elements for years to come.
Energy efficiency: BUR uses a special coating with a high reflectivity value. Reflecting the sun helps maintain a consistent temperature throughout your building. This allows you to save money on heating and cooling costs.
Materials Used in Built Up Roofing
While built up roofing has been around for many years, new technology has allowed this roofing type to evolve and become even more efficient. Newer types of BUR include a layer of rigid insulation to improve energy efficiency. There are three parts of most built up roofing: bitumen material, ply sheets, and surfacing materials. Bitumen can be installed hot or cold. Hot bitumen is heated to liquid while cold is more like an adhesive. Cold bitumen can be sprayed or squeegee applied. This version does not give off toxic fumes while it's being applied, and it's also not dependent on weather. Built up roofing ply sheets are special fabrics. They're reinforced with fiberglass or organic materials and laid over the bitumen to bond to the roof. Surfacing materials consisting of fine gravel or small stones form the top layer. This creates a finished look and protects the other layers from the sun and debris, also making the roof safe to walk on.
How Long Will My Built Up Roof Last?
There are a number of factors to be considered, including climate and materials used. In general, built up roofing has a life expectancy of 15 to 30 years, but many easily last 40 years or more. BUR tends to hold up best in warm climates like Florida. If you're looking for a roofing material that can last longer, your options include standing seam metal roofing and slate roofing. We'd be happy to help you better understand the pros and cons of built up roofing for your home or business.
Contact Our Team Today
Are you ready to learn more about how built up roofing can benefit your home or business? If so, the roofing experts at Paul Bange Roofing would be happy to provide you with a free roofing consultation. We specialize in commercial roofing, corrective maintenance, preventative maintenance, re-roofing, skylights, roof repair, and more. Our team has been serving the residents of Fort Lauderdale, FL for more than 30 years, and we've built up a solid reputation with our customers in that time frame. Contact us today to protect your building with a new roof.
Request Your Estimate Today