Skip to Content
TPO Roofing Options for South Florida Businesses
Thermoplastic polyolefin (TPO) is a single-ply membrane roofing solution and is the fastest-growing commercial business option in the South Florida area. Paul Bange Roofing is capable of installing TPO on your business' roof today. Give us a call if you want to discuss the many advantages this roofing solution can provide to you and your company. When hiring our professionally trained and well-qualified team, you can count on us to offer a lifetime guarantee with all new roofing solutions, including TPO. With over 30 years of experience helping clients protect their employees by putting a roof over their heads, Paul Bange Roofing is the only team you need to call!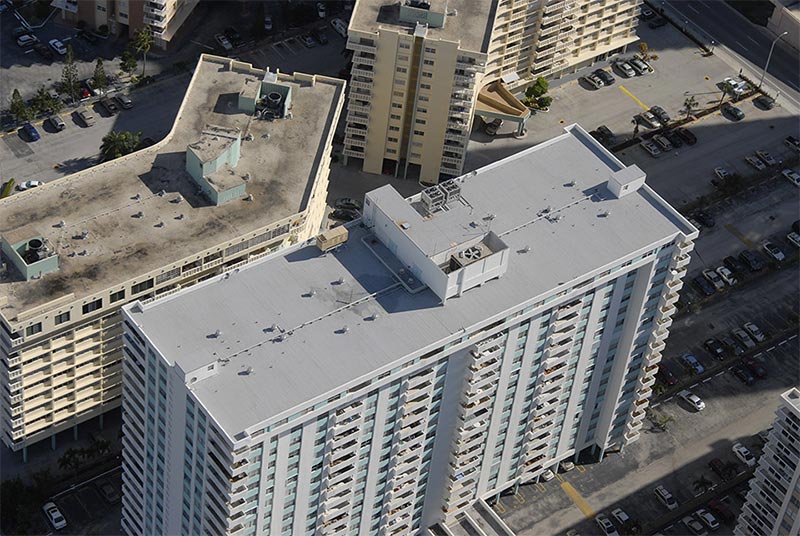 Benefits of Using TPO as Your Roofing Solution
There are plenty of benefits for using TPO as your next roofing solution on your building. The TPO membrane utilizes polypropylene and ethylene-propylene rubber, which has been polymerized together to create your new roofing solution. Below are some of the benefits you will receive by hiring Paul Bange Roofing to install TPO:
Cost
One of the most significant factors when considering a new roof solution is the cost. TPO costs anywhere from $5.00 to $7.50 per square foot. If you have a large building, this cost can be dramatically reduced than using other traditional materials to protect your building and employees.
Energy Efficient
Another way TPO helps save you money is by keeping your warm or cold air inside the building. No matter if you choose the white, tan, or gray option, you can count on them to exceed the EPA's energy star requirements.
Durability
TPO is known for being incredibly useful when resisting bacteria, algae, and dirt. It is also resistant to debris, which may cause damage after the heavy rainstorms we are used to in South Florida. Reducing this kind of damage will help protect your roof from further repairs and early replacement.
Ease of Installation
TPO offers an incredible and easy installation with its lightweight and flexible property. Paul Bange Roofing saves you money on time and installation since fewer seams create atop your building.
Paul Bange Roofing Finds You the Right TPO Solution
There are many different forms of TPO roofing solutions, and our well-trained professionals can get you the exact match needed for your roofing requirements. All of them are backed by our 100% customer satisfaction guarantees as well to give you peace of mind when shopping for a new roofing solution.
Request Your Estimate Today