Skip to Content
Metal Roofs in Fort Lauderdale, FL
If you don't want a shingle roof, and tile isn't a good fit, you're not out of luck. For the last 30 years, Paul Bange Roofing has installed metal roofs throughout Fort Lauderdale, FL and the rest of Southeastern Florida. What was once thought of as an exclusively commercial roofing material is becoming increasingly popular in Fort Lauderdale, FL. We're big believers in the advantages metal roofs provide over other options like shingles and tiles. While those two alternatives offer something to property owners, metal roofs are unique in several ways.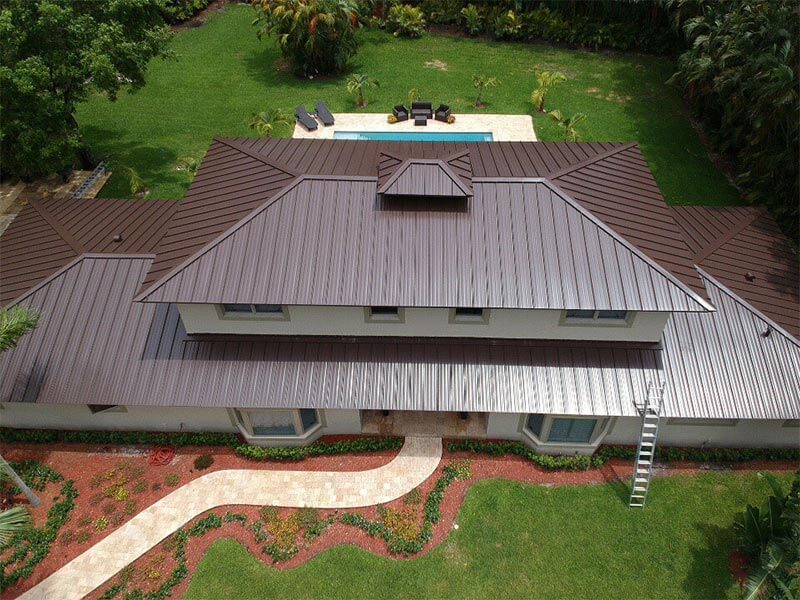 Metal Roofs Aren't Just For Commercial Properties Today
When we talk to you about metal roofs, you might picture commercial or industrial properties. However, a metal roof poses a set of benefits that exclusively benefit houses in the sometimes volatile Southeastern Florida region. For one thing, many customers choose to forgo asphalt shingles due to their shorter lifespan, but are unwilling to spend what they need to install the tile. Metal roofing is a compromise that offers more longevity than shingles but costs a little less than tile roofs. But here's the most essential quality a metal roof possesses: It can withstand nearly any weather condition. While a catastrophic hurricane might topple your home, metal roofs are highly effective at facing milder storms. In a region that sometimes sees multiple tropical storms and hurricanes during hurricane season, that's a big positive. Just as commercial properties need to protect their investment, you want to do the same for your home.
The Advantages of Installing a Metal Roof
When choosing a roofing material, there are a lot of factors to consider. One of them is cost. If affordability is on your mind, Paul Bange Roofing recommends an asphalt roof, which delivers a host of unique advantages of its own. However, if you have other concerns, then a metal roof might be perfect for you. Metal might be an unconventional choice for your home, but it can also be the ideal decision. No matter what your metal roof is made of, they:
Are in it for the long haul: While asphalt shingles generally last up to 20 years, metal roofs last from 40 to 70 years. Replacing a shingled roof with a metal one means never worrying about your roof again unless it is destroyed.
Provide extreme weather with a stiff challenge: So metal roofs last a long time. However, how do they react to the intense and violent storms that strike Southeastern Florida each year? Very well. Your metal roof is up to the task of combatting the punishing wind, and heavy rain that accompanies a hurricane. As long as your house still stands, the roof will.
Offer sustainability and environmental benefits: When we install the roof, you're getting a roofing material made from 25 to 35 percent recycled materials. However, as the roof ages, it becomes 100 percent recyclable. Homeowners with the environment on their mind should strongly consider a metal roof for that reason.
Don't catch fire: Whether as a result of a storm or a typical fire, metal roofs are incredibly safe. They don't spark or ignite when struck by lightning.
Reduce your home's energy bills: Metal roofs do an extraordinary job of reflecting solar heat, which means they are effective at reducing your home or business' cooling costs (sometimes by up to 25 percent.)
Contact Paul Bange Roofing Today
If you're attracted to the practical benefits of metal roofs but are put off by their metallic appearance, there's good news. Paul Bange Roofing offers a broad spectrum of metal roofing materials, many of which closely mimic the colors and shapes of other roofing materials – like shingles and tiles.
While your image of a metal roof might be generic and unpleasant to look at, this couldn't be further from the truth. Part of the appeal of Paul Bange Roofing lies in our commitment to superior customer service. So if you know you need a new roof, but are uncertain about your options, visit us.
You can view samples of metal roofing materials that will give you a better idea of what to expect. We pride ourselves on delivering service based on honesty, integrity, and superior workmanship. We look forward to speaking with you and completing your next roofing installation.
Request Your Estimate Today