Skip to Content
Commercial Roofing Services in Fort Lauderdale
In order to run a successful business, you have to make sure that your property is secure and safe. Paul Bange Roofing is Fort Lauderdale's commercial roofing contractor you can put your full trust in when you need roof repair or a roof replacement for your business. We have over 30 years of experience and have dealt with all sorts of situations when it comes to commercial roofing, so you can be sure that we have the right solutions and tools to deal with your roofing problems efficiently.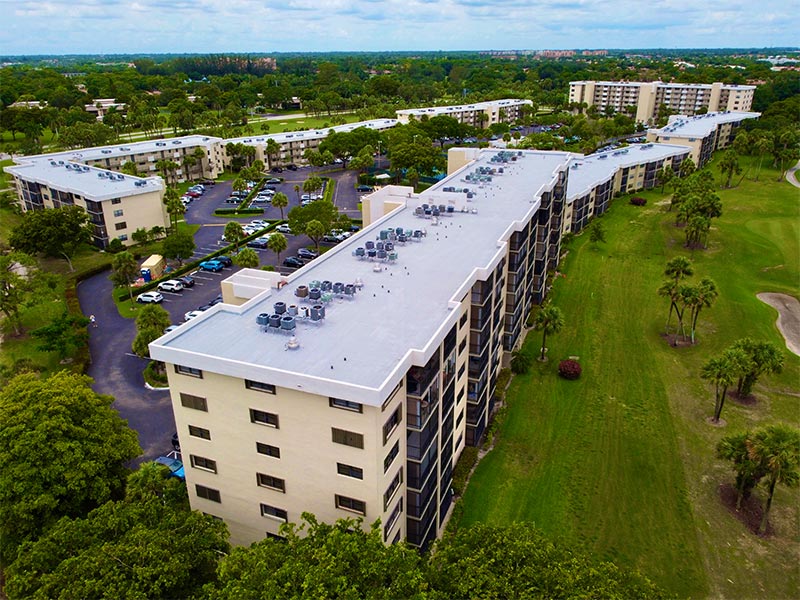 Commercial Management and Maintenance
The Paul Bange (Commercial Management and Maintenance Agreement) is a tool that will provide you with a comfort and understanding of your roof system. The roofing professionals at Paul Bange Roofing perform annual roof maintenance and roof inspections of your roof. "We evaluate after every named storm that hits our area". All recommendations for repairs will be made and addressed in your evaluation report.
Services
Paul Bange Roofing's Commercial Management and Maintenance Agreements differ depending on size, access, and roof penetrations. Each roof agreement will include the following per visit:
Inspect the entire roof area for damage that may have resulted from foreign objects, activity from other tradesmen or natural deterioration of the membrane and flashing.
Remove all debris that may have accumulated on the roof surface to ensure it does not restrict drainage or cause roof membrane damage.
Inspect and clean all roof drains, overflow drains, grates, and scupper drains to ensure a free flow of rain water.
Inspect all seams at membrane field seams, roof curbs, and roof penetrations. Verify no voids have developed at seams and make minor repairs.
Inspect all sheet metal flashings and counter flashings at copings, gutters collector boxes, and downspouts to verify they are firmly attached and sealed and make minor repairs.
Inspect and verify roof access scuttle, ladder, and locking mechanism are operational and all flashings are in place and secure.
Submit a written evaluation report to the building owner/agent detailing the current condition, any deficiencies with description, corrective action and cost which will be broken down as (emergency, remedial, and replacement).
Schedule Your Free Consultation Today
Routine roof maintenance and proper roof inspections are the key elements to extending the life of your roof system. The idea is to find and solve a minor problem before it becomes a big costly problem. By the time you see a leak, it has already found its way through the roof substrate to the ceiling. At this point, you may have severe and costly damage to your insulation, roof decking, and a great potential for mold issues. Simply put, things can happen to your roof and often do. The key is early detection while the solution is still inexpensive and your building is unharmed. Your roof is one of your most valuable assets — protect it by calling the trusted Fort Lauderdale roofing company. We give free roofing consultations, so give Paul Bange Roofing a call today!
Testimonials
Highly recommend Paul Bange Roofing! They completed a large commercial project for me. Kelly and Eddie are amazing! They go above and beyond to get the job done, go out of their way to make the process smooth and seamless! What a great experience from start to finish! Thanks Kelly and Eddie, you guys ROCK!
Matt was very knowledgeable and helpful with any and all questions I had. He always answered/returned my calls promptly. And continuously gave me updates with my permit approval status. The crew that came out to replace my flat roof was professional and efficient they completed my roof in one day. I will be calling Paul Bange Roofing for any/all my roofing needs in the future. Outstanding service!!
I am a property manager for 11 years now and I have never had such great customer service and excellent pricing. Evan and Kelly always explain things so well and they have quickly become my go to roofers on all my community projects. I highly recommend them both along with the Services Paul Bange Roofing has to offer.
Usual job well done! I am a long-time Paul Bange Roofing customer and 2 years ago I needed a new flat roof! I only called one company - Paul Bange Roofing and they did an awesome job. Even the city inspector told me the roof was done very well. Now, 2 years later I was told by my insurance company to replace my 20 year old roof. Yup - I called Paul Bange Roofing and they just completed the job and received all approvals from the city without a problem. I also belong to the Overhead Care Club and have my roof inspected every year before hurricane season. It's just being smart and having a reliable company behind you. Yes, I highly recommend Paul Bange Roofing.
We have been using Paul Bange Roofing for over 20 years for our homes and apartment buildings. They are always professional, on time, and do great work. I would and do highly recommend them for anyone in need of a new roof or roof repair.
Have been working with them for 3 years doing repairs and roof replacements for the condo I manage. Working with Jimmy Schuster has been a great experience. He goes beyond the expectations to get the job done at a fair price and great workmanship.They are quick and very reliable.
We recently completed a 10,000+SF commercial office re-roof in downtown Lauderdale with Paul Bange Roofing Commercial Division. Excellent service from beginning to end. They were prompt and professional and delivered on every item as planned. Kelly O'Brien was courteous and knowledgeable and made us feel confident that our job was in good hands. I highly recommend Paul Bange and will definitely hire them again the future. Well done!
Request Your Estimate Today