Skip to Content
Tile Roofing in Fort Lauderdale, FL
Paul Bange Roofing delivers exceptional customer service built on a commitment to honesty, integrity, and high-quality workmanship. Fort Lauderdale, FL trusts us for shingle, metal, and tile roofing installation because we own our own trucks and hire highly-qualified roofers to get the job done. Our prices are affordable, which comes in handy when installing tile roofs – which, despite their beauty and durability – are more expensive than asphalt or metal options. Most importantly, we want to remove uncertainty and anxiety from the equation when it comes to your roof. If you're interested in replacing your existing roof with a tile roof, we're your go-to source.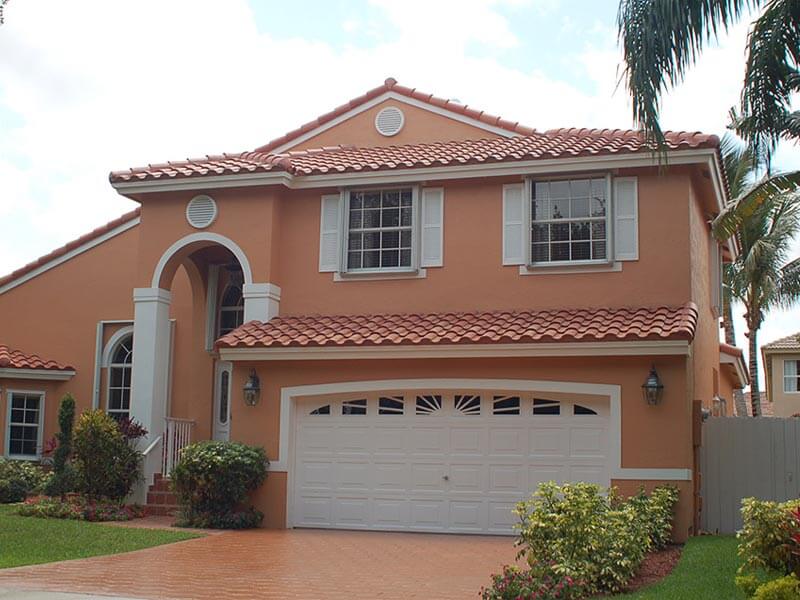 How Is Tile Roofing Different From Asphalt Shingles?
While asphalt roofs are more readily found in the United States, tile roofs are more popular worldwide. They are more expensive than asphalt shingles, but they last much longer than shingles do. Installing a tile roof means you likely won't have to do it again.
They are more resistant to climate factors
Because of their hefty size, tile roofs are more durable than their asphalt shingle cousins, something that appeals to those who live in Southeastern Florida, where hurricanes can happen multiple times a year.
Tile roofs are heavier
Before switching from asphalt to tile, you need to contact a structural engineer. Your building's foundation must be strong enough to support the weight of a tile roof.
They are pricier
As noted above, tile roofs are more expensive. However, they provide ample benefits that offset the price difference between tile and asphalt. Read below to learn more.
What Are the Benefits of Tile Roofs?
Tile roofs are beneficial to Southeastern Florida homeowners in numerous ways. Paul Bange Roofing installs multiple tile roofs each year because of their value and aesthetic properties. The most popular upsides to installing a tile roof include:
Last a long time: Due to their durability, tile roofs are extremely attractive to prospective homeowners. If you are planning to sell your home, but need to replace your roof first, installing a tile roof is a great idea.
Are impervious to rot and insect damage: One of the benefits of tile roofs includes their ability to completely resist the rot and insect damage that plagues other roofing materials. Tile roofs are not only resistant to this kind of damage; they cannot be affected by it. For that reason, Paul Bange Roofing recommends tile roofing to Fort Lauderdale, FL clients who wish to avoid rot and insect damage.
Are environmentally friendly: Because tiles are made from earth minerals and don't have to be factory-made with inorganic materials, they can be crushed and recycled when they are removed. That's a massive plus for environmentally-conscious homeowners.
Offer a wide array of choices: Tile roofs are made from a variety of materials, and each one presents its own unique appearance and quality. Clay, concrete, and slate are the most popular materials. They're great for homeowners looking to achieve a variety of architectural styles, including Spanish, medieval, or contemporary European. We can even install tiles that look similar to asphalt shingles or wood shakes.
Require very little maintenance: Tile roofs do not leak. Also, because of their durability, it is unlikely you will need to call us for repairs unless a particularly strong storm damages the roof. Tile's incredible strength is the most significant factor overriding the cost.
Are incredibly energy efficient: Placing a dense thermal mass – like tile – on your roof helps regulate the temperature inside your home. If your house cools more efficiently, then your air conditioner doesn't need to run as high to keep up with Florida's hot temperatures.
Contact Paul Bange Roofing Today
Given how frequently Fort Lauderdale, FL experiences tropical storms and hurricanes, Paul Bange Roofing must use our expertise and knowledge to make sure your tile roof is installed correctly. Adding tile to a roof in New Hampshire is not the same as here. For instance, each section of the roof needs to be adequately reinforced to support the weight of the tiles and to account for the climate in Southeastern Florida. High winds pose a threat to your roof, so we have to attach each tile at the front with stainless steel or copper clips to prevent the tiles from moving or even flying off when storms hit. However, we can't attach fasteners and clips too forcefully, or we'll crack the tile. One of the ways we keep costs down is by preventing unnecessary expenses like that. It's where our expertise comes in handy. To learn more about everything Paul Bange Roofing has to offer you, contact us today.
Request Your Estimate Today