Skip to Content
Flat & Tapered Roofing from Paul Bange Roofing
For over 30 years, Paul Bange Roofing has been helping residents and businesses all over South Florida when it comes to their roofing needs. When you need a new roof, we are the team to call! Our experience helps you decide if your old roof style needs to go and how a flat or tapered roof could be a better option. Give us a call today to set up a professional roof inspection to help find the issues with your current setup and how we could improve upon it with a brand-new design. Our experienced eyes can help find problems you may not have known were there – but don't worry – we will never suggest anything other than what is needed to help give your home or office the best roof possible.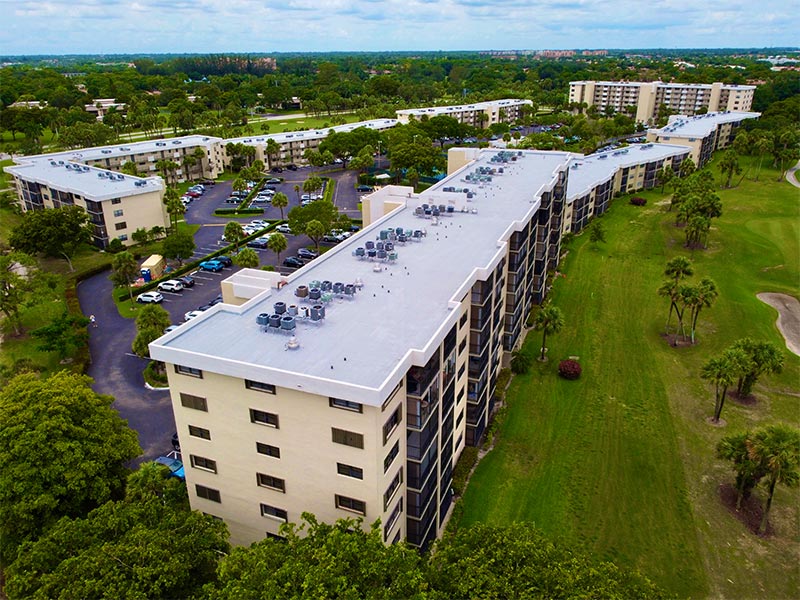 How Do I Know If a Flat or Tapered Roof Is Right for Me?
When building your home or office, Paul Bange Roofing can help you decide the best type of roof option based on your needs and wants in design. Flat and tapered styles are two of the most popular options around South Florida, and both come with pros and cons. Trust our roofing experts when you need help deciding which one is best for your building:
Flat Roof
One of the most significant advantages to a flat roof is the initial cost for installation. Running at about $0.80 per foot, you can have a new roof in little to no time. Depending on the installation materials, you can also use this space for entertaining and adding square footage to your home or office. One downside you need to consider is drainage. If not, your building could suffer water damage. Paul Bange Roofing will ensure you are well protected when deciding to choose a flat roof for your home or business.
Tapered Roof
When thinking of longevity, tapered roofs are going to be the better option as they will last. We can use a multitude of different materials to help your roof stand the test of time. You can also count on better durability when considering inclement weather, such as heavy rain. Tapered roofs also very conducive when thinking of adding solar panels to your home or office. One disadvantage is the limit on materials you have to choose from when constructing.
Lifetime Guarantee on All New Installations
Customers will be happy to know they receive a lifetime guarantee on all newly installed flat or tapered roofs. If you ever have an issue with the quality of the roofing job performed, simply give us a call, and we will be right out to your property to do an assessment and make it right. Paul Bange Roofing is your friend in the roofing industry!
Request Your Estimate Today