Skip to Content
About Us
Master craftsman Paul Bange founded Paul Bange Roofing, Inc. over 30 years ago. He has a passion for building and a vision shaped by by the belief that everyone deserves to live and work in the safest structure possible. Paul recognized that a solid, sound roof is critical to a structures integrity, and he and his family set out to provide the highest quality workmanship in the roofing business today. Paul still proudly applies those same principles three decades and thousand of roofing jobs later. In addition, to further expand on Paul's vision, Paul Bange Roofing owns and operates all of their own equipment.
Our solid reputation in the community has been built on the quality of our services, and our competitive pricing. We guarantee that your roofing job will exceed your expectations.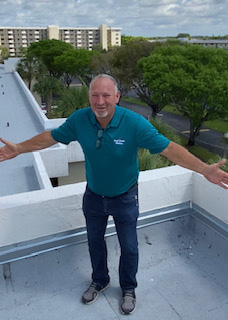 Paul Understands That Roof Related Problems at Your Business Can Be Serious
They can cost you loss of inventory, equipment, man-hours, customers, and profits. The commercial and industrial roofing programs of Paul Bange Roofing are designed to protect you and your business.
Master Roofing Craftsman at the Ready
Paul Bange began his company with a passion for roofing and believed every home and office deserves to have a solid roof. He believed in protecting your family and employees by providing professional roofing services all over South Florida. Whether you need simple repairs, regular maintenance, or a completely new roof, Paul Bange Roofing is the team to call for all your roofing needs. We provide commercial and residential roofing services to serve the South Florida community best when they need strong and resilient roofing solutions. Give us a call today, and we will get started with your roofing needs today.
All of Our Dedicated Paul Bange Roofing Professionals Promise to Work Hard for You, Your Home and Your Business
P aul Bange Roofing will provide you with the highest quality roofing. We use only the finest materials on the market today.
L ife is full of unknowns; your roof shouldn't be one of them.
E very job is important, and your roof is as critical to us as it is to you.
D illgence and quality set us apart.
G etting your job done right is our top priority.
E xpert service you can count on.
Testimonials
Paul Bange Roofing did an incredible job on our house today. We needed to have the roof redone and facial boards replaced. Paul, the owner, came out personally to the house. The next day they started. His crew was very professional, very neat and worked as a strong team. Shop quality and go with a company that is licensed and insured. We believe in supporting family owned and operated businesses in our community. The Bange Family has created jobs in the community and always gives back. They guarantee their work, offer service contracts and do impact windows as well. Go with the best! Paul Bange Roofing is your company for all of your roofing needs.
Highly recommended by all that I spoke with prior to contracting for my new roof. I was not disappointed. From start to finish, very professional and responsive. Paul Bange himself actually was up on my roof checking the work progress, reminding me of his television ads. As to Carlos, top notch!!!
If I could do 10 stars I would! Matt and the team at Paul Bange Roofing did an amazing job on our new roof from the first phone call to the last shingle and every step in between. Showing up to the job early, being available 24/7 and going the extra mile are a few examples why I am super impressed with the way Paul Bange Roofing does business. Paul Bange Roofing is by far the best roofing company in South Florida, I met with the other companies it is not even close. If you need a new roof I strongly recommend calling Matt you will be glad you did.
We have been dealing with roof issues since Hurricane Irma in 2017. We had another company come out to make repairs but they didn't last. Paul Bange Roofing was recommended to us to come and fix the other company's poor job. I was impressed from the minute I called them. Tim Powers was professional and explained everything to me. He promised they would take care of our roof issues as they did. Excellent work. Excellent customer service.
I had done all your suppose to do got quite a few estimates. Paul Bange was my 2nd and the most impressive! After that I compared everyone to them none even came close. The workmanship and quality of the job top notch. I will recommend to everyone who asks about the total experience. Thank you Paul Bange roofing for peace of mind this hurricane season!
Request Your Estimate Today