Skip to Content
Peel & Stick Preparation Video
Benefits of Using Peel and Stick Underlayment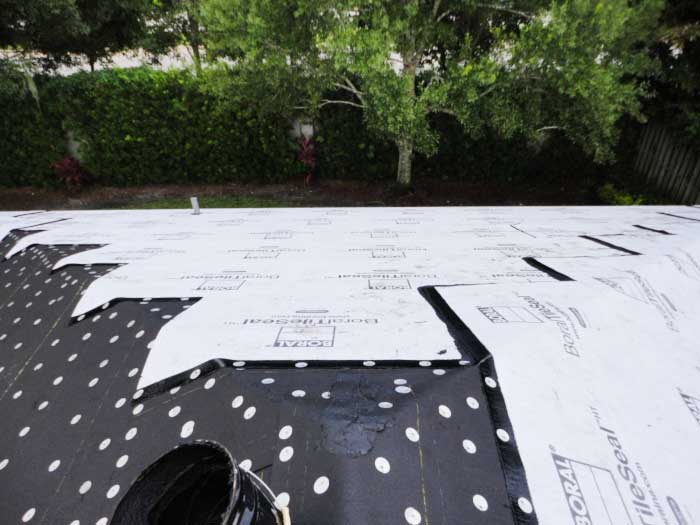 Peel and Stick Underlayment Offers Secondary Roof Protection
With over three decades of experience, Paul Bange Roofing is a residential and commercial roofing expert you can trust for roofing advice in Fort Lauderdale, FL. One of the things we're frequently asked about is the benefit of using peel and stick underlayment. The tile on your roof is a significant defense against the elements, but the underlayment also plays a crucial role. It provides a secondary level of protection directly on top of your roof deck. Underlayment can ensure longevity and improve the performance of your roof, so you want to make sure you choose the correct type for your home or business. There are a variety of peel and stick roofing underlayments currently available. Among the benefits of using peel and stick underlayment rather than #30 felt or #90 slate are:
Durability
No use of smelly, hot asphalt
Cleaner installation
Slip-resistant surface
Peel and Stick Underlayment Is Easier to Install
Peel and stick underlayment quickly adheres to your roof deck, as it is unrolled, allowing the installation to be completed by only one worker. Its flexibility and quick application prevent the threat of wind affecting the process and ensure a smooth surface free of wrinkles and curling. The flexibility of peel and stick underlayment also eases installation around ridges, hips, and valleys. The ability to use a smaller crew prevents foot traffic from placing unnecessary stress on your roof.
Peel and Stick Underlayment Improves Workers' Safety
Peel and stick underlayment is less cumbersome than its traditional alternatives, permitting workers to more easily transport and maneuver the product. Furthermore, its slip-resistant surface helps stabilize installers even in wet conditions. Being light in color, the underlayment keeps the roof cooler and more comfortable during harsh Florida summers. Workers' safety can increase the efficacy of your project and consequently improve the durability of your roof.
Peel and Stick Underlayment Allows for Cleaner Installation
Peel and stick underlayment eliminates the need for tar or asphalt during roof installation. Alternatives to the peel and stick product may necessitate the use of hot tar or direct flames to seal your roof, thus creating hazards, increased workforce, and a possible mess. A quicker, cleaner process allows us to apply peel and stick underlayment to your Fort Lauderdale, FL roof during a broader range of weather conditions. Whether you have a slate, metal, or tile roof, peel and stick underlayment is suitable for various roofing applications.
Peel and Stick Underlayment Strengthens Your Roof's Durability
The smooth surface made possible by peel and stick underlayment will minimize the areas in which water can pool and eventually compromise the integrity of your roof, maintaining a secure barrier between your home and Mother Nature. The absence of holes created by nails further aids your roof's effectiveness as a barrier against the elements, as the underlayment is simply rolled onto your roof. This strategy also renders unnecessary the use of adhesive tape to seal seams, further safeguarding against moisture. When introducing nails during the shingle installation process, the underlayment's watertight membrane quickly seals the holes they create.
Peel and Stick Underlayment Is Stronger Than Other Options
Peel and stick underlayment distinguishes itself from asphalt underlayment in its resistance to cracks and tears during installation, resulting in less wasted product throughout the project. The shorter project duration protects your Fort Lauderdale, FL home or business from being exposed to weather-related threats, as well as wear-and-tear from our roofing crew over a prolonged period. Additionally, the quick application of peel and stick underlayment decreases the risk of wind and water damage during installation. With adhesive on each square inch of its surface, the product rapidly binds to the underlying plywood.
Peel and Stick Underlayment Protects Your Home During Storms
Once we install your roof's shingles in Fort Lauderdale, peel and stick underlayment will serve as a secondary line of defense against leaks and water damage. By this point, your roof is typically watertight. However, in the event of a windstorm blowing the shingles off of your roof, peel and stick underlayment will remain in place despite most serious wind conditions. Upon setting, the adhesive is extremely difficult to remove. This protection will help mitigate damages and losses during Florida's hurricane seasons.
Peel and Stick Underlayment Can Save You Money Annually!
Installing Peel and stick underlayment will help you qualify for insurance discounts. Florida Statute 627.0629 stipulates that all insurance companies must provide "credits, discounts, or other rate differentials" to homeowners who implement "windstorm damage mitigation techniques, alterations, or solutions" to protect against damages and losses. Considered a secondary water resistance barrier for its ability to prevent leaks despite shingles being blown away in a storm, peel and stick underlayment will qualify you for these savings. Call to schedule an appointment with us to further discuss your roofing needs.
Paul Bange Roofing can be found on:
Facebook
Twitter @paulbangeroofin
YouTube